Christmas Hours 2021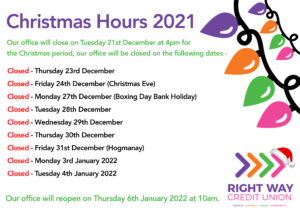 Our office will reopen to visiting members on Thursday 6th January 2022 at 10am. Please note – If you are looking to apply for a Christmas loan you will have until Friday 17th December 2021 to apply.
*Currently we are receiving an exceptionally high volume of loan applications with a back log that we are working hard to clear. Loans are currently taking up to 10 working days to be assessed. We would ask that members who have submitted a loan application please wait the 10 working days before contacting the credit union regarding the progress of their loan. We would also ask that members ensure that they have provided all their proof of income, including statements/open banking for ALL bank accounts they may have, as failure to do so will result in a delay of the loan being processed.
Share withdrawals
Right Way Credit Union will be closed from 23rd December to 6th January. Share withdrawals will be turned off during this time as no staff will be available to process them.
The last date for a share withdrawal request is Wednesday 22nd December at 2pm.
For more information please contact the office by emailing info@rwcu.co.uk or you call us on 0141 889 7442.