You can apply for a Personal Loan in 2 ways:
Online
Follow this link – Activate Account and apply online via our Mobile App.
Download our app from the links below:

Along with your loan application we require your proof of income. This includes 2 months bank statements which you can provide through open banking by clicking here
Alternatively, you can send copies of your bank statement and other proof of income via email info@rwcu.co.uk
*Please note that we will be unable to process your loan without proof of income. Please email your proof of income to info@rwcu.co.uk 
In Person
If you wish to apply for this loan in our office you will have to complete a loan application form, please see Loan Application Checklist below for what you will need to bring with you.
Failure to bring the correct documentation for the loan will result in a delay.
We can only accept loan applications that have the correct proof of income.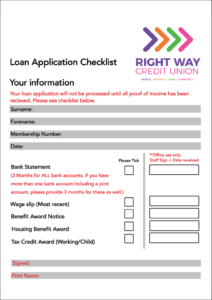 Terms & Conditions Apply